February is a month for romance and particularly Valentine's Day. Did you know there was a 'romantic tutu'? It was white, multi-layered and very full, worn with a white bodice. This became the costume for the Romantic ballerina in the 1800s.
Romanticism in art and literature and those ideas defined and created this romantic era of ballet. It was primarily at the Théâtre de l'Académie Royale de Musique of the Paris Opera Ballet and Her Majesty's Theatre in London.
This era was also responsible for making the ballerina the forefront of ballets. Men were no longer the shining star!
Candles had previously been used – yes candles! Then gas lighting came along – changing everything,  so now theaters could use dimming effects for creating romantic moods.
Did you also know that pointework was still in its very early stages but greatly influenced how people saw ballerinas and ballet?
Marie Taglioni became the epitome of the romantic ballerina with her performance in the 1827 of La Sylphide when it debuted in Paris. She became the world's most famous ballerina!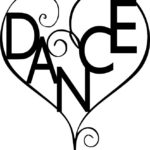 The four most famous Romantic ballerinas in 1845 were Marie Taglioni, Carlotta Grisi, Fanny Cerrito and Lucile Grahn. Together they appeared in the Pas de Quatre, on the London Stage, which was choreographed by Jules Perrot.
Here are just a few of our favorite romantic ballets – which are your favorites?
La Sylphide – the first major romantic ballet – and still performed regularly.
Sleeping Beauty – the kiss!
Swan Lake – so beautiful.
La fille mal gardée– and no-one dies.
Those are ours – what are your favorite romantic ballets and is your studio hosting a Valentine's Day theme?