Ballroom Dancing
How does this sound: five thousand unobstructed square feet with a beautiful blonde hard wood floor and spacious 17 foot ceilings? Not to mention smack dab in the heart of it all, at 37 West 37th Street, midtown Manhattan – a dancer's dream destination? Sophisticated, rhythmic, stylish and detailed, learning the basics to ballroom is just the beginning. Ballroom Off Fifth, New York's glamorous go-to spot for ballroom dancing lessons, is now appealing to the masses with beginner friendly classes – packages designed accordingly – with an incredibly high calibre staff of professionals to instruct and inspire.
Made accessible to those desiring a choreoographed wedding dance, a chance to spend date night on the dance floor learning the salsa or the tango, this chance to dance recently even popped up on New York's Gilt.com, a discount website for elite social opportunities, tickets and events. 3 class packages going for around $150, these perfect opportunities to snatch up the best of the ballroom are lighting up with this growing urban interest.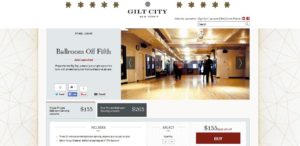 Whether thanks is due to shows like So You Think You Can Dance, Dancing with the Stars, or perhaps the good old fashioned love of the "first dance" and admired ability to glide across the floor, all eyes on you, Ballroom dancing has made its mark, just off fifth, in New York City. Easy for you to check out and sign up for, I suggest you 5-6-7-8 your way on over there and get ready to count it out with the professionals.
– love from J