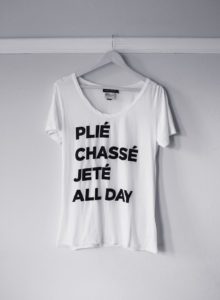 Dance Pinterest
I came across a dance Pinterest board today, rather by accident, but nevertheless was overjoyed with its title; among many of a Ms. Sarah Rowland's dance Pinterest boards, ranging from fashion to style to dance, her "en pointe" board stands out, deserving of praise by www.En-Pointe.com, of course!
Check it out here: http://www.pinterest.com/saraherowland/en-pointe/
My favorite picture of course, the "plie, chasse, jete all day" t-shirt… want! You'll still find shots from Vogue UK snapped by Patrick Demarchelier, a Liza at age 4 on the ballet barre, tutus, shoes, and videos gallore to fill your en pointe visual, inspirational desires… enjoy!
– love from J