Freestanding Ballet Barre – StudioBarre™ –
Our freestanding ballet barre is made of high quality yet light-weight aluminum. With our engineered design and use of the highest quality materials, crossing bracing is not required on any of our StudioBarres, unlike some standard barres.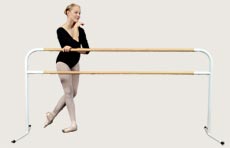 One of the benefits of a freestanding ballet barre is they are designed to be moved around.  Even our longest 20' ballet barre can easily be moved from one location to another.  Our StudioBarres are not anchored to the floor, yet provides the stability dancers require for stretching and balancing.  No more wobbly barres!
The En Pointe freestanding ballet barre is available in all aluminum or aluminum/wood combination. Aluminum horizontal barres click into strong ends.  No tools are necessary to assemble our all aluminum freestanding ballet barre.  To assemble the aluminum wood combination ballet barre, a standard screw driver is required.  Both types of the dance barres can be assembled in minutes and are easily taken apart for storage or transportation.
Our freestanding ballet barre is available in many lengths from 4' to 20'. Ballet barres longer than 10' include one center support and barres over 18' have two center supports. The height of our double ballet barre is 42.5" for the upper barre and 31.5" for the lower barre (standard for ballet companies).
The freestanding ballet barre has an industrial powder-coat finish for a chip, scratch resistant surface and will endure the demands of any ballet company or dance studio..StudioBarres are available in white, gray and black or the option of powder-coated aluminum ends with wood-finished barres. Our wooden barres are crafted from hemlock and have three coats of polyurethane applied to provide a smooth finish.
En Pointe crafts the perfect freestanding ballet barre.  Our barres will last a lifetime.  We have been supporting dancers around the world for over fifteen years.
If you have any questions, please contact us by email or phone 1-866-491-9019.