Ballet Barres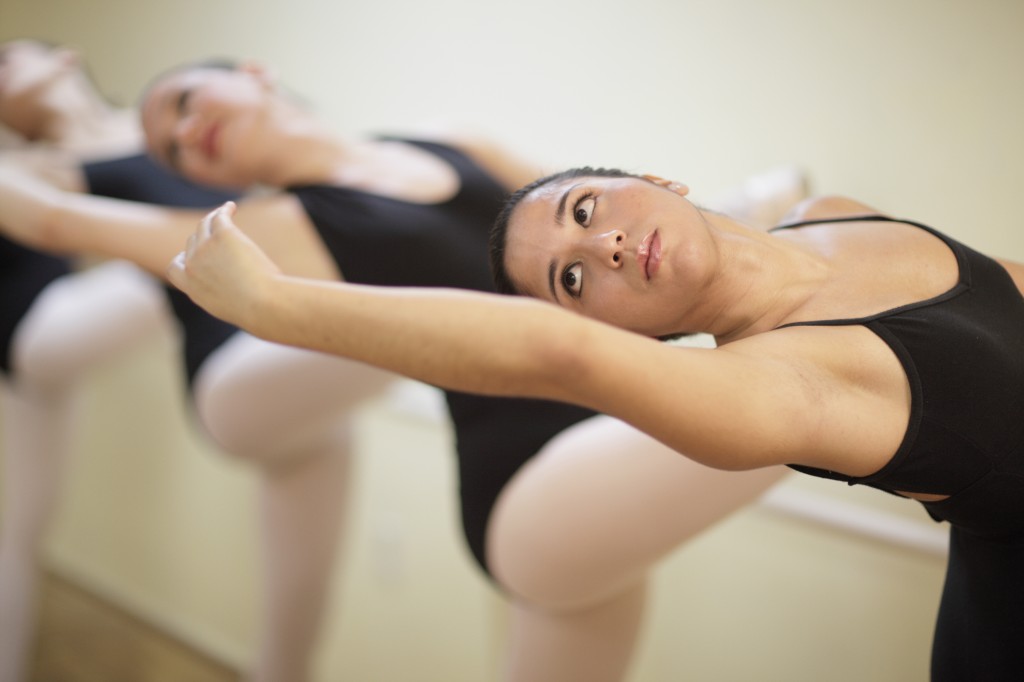 We have all heard various quotes "setting the bar" in regards to a standard expectation or degree of requirement. We at En Pointe, feel we have "set the bar high" when it comes to our barres.  What makes our barres so special you might ask.  Without a doubt, it's the thought, design, detail, quality and care which sets our barre!
With our engineered design and use of high quality, yet lightweight aluminum, powder coated to endure the demands of any dance studio, En Pointe's barres are free standing and do not require cross-braces, unlike some barres. Our highly crafted professional barres are available in three different styles; the free-standing StudioBarre and our portable ballet barre – PortaBarre (with carrying case) and wall mount ballet barres with brackets. All our barres are available in different lengths, colors and options. We are here to support you!
Ballet Barres – StudioBarre
The En Pointe StudioBarre is available in all aluminum or aluminum/wood combination. Click here for additional information on StudioBarres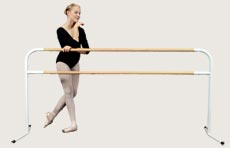 Ballet Barres – PortaBarres
The EnPointe PortaBarre a truly portable ballet barre.  This ballet barre snaps together in seconds. The convenient light-weight ballet barre comes with its own designer carrying case with shoulder strap and carrying handle.  Click here for additional information on PortaBarres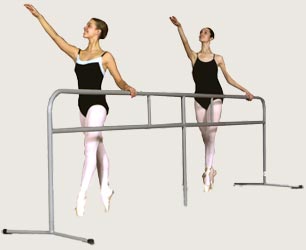 Ballet Barres – Wall Mount Ballet Barres with Brackets
The En Pointe Wall Mount Barre is the ultimate ballet barre for studio or home.  Ballet barres for wall mounting are available in wood barres with aluminum brackets or all aluminum barres and brackets.  Click here for additional information on Wall Mount Ballet Barres with Brackets
The Making of our Hand Crafted Barres
All our aluminum ballet barres and brackets are powder coated with a high quality industrial protective finish.  A powder mixture of finely ground particles of pigment and resin is electrostatically sprayed on the surface to be coated.  Through several processes the powder particles are charged and permanently adhere to the aluminum until the powder is heated and fused into a smooth coating in a curing oven.  The result is a uniform, durable and attractive finish that will maintain its appearance for many years to come. Powder coated surfaces are more resistant to scratching, fading, chipping, peeling and wearing than any other finishes.  Ballet barres which have not been powder coated are susceptible to chipping, peeling and depending on the humidity levels tend to give off a metallic odor and can leave a powdery substance on your hand.
The EnPointe maple wooden ballet barres are carefully selected to ensure the length of barres are straight and have no obvious knots, imperfections or grains.  The ends are sanded to remove any sharp edges, as are the barres sanded.  Three coats of polyurethane are applied and completely dried between each coat to provide a smooth satiny finish.
Deciding on a wooden ballet barre verses an aluminum barre is entirely a personal preference.  Some dancers find the wood barre warmer to the touch and more traditional.  Other dancers like the smooth cool feel of the finished aluminum and find the powdered coated ballet barre more hygienic.  Some wood barre "supporters" like the feel of the slight "give" of the wood barre, whereas the aluminum "supporters" like firm placement of the barre.  Whatever you decide, one thing we know, you will love our ballet barres!
If you have any questions regarding our ballet barres, please contact us at 1-866-491-9019 or email.
FAQ
Are all of EnPointe's barres portable?
Our free-standing barres – PortaBarre and StudioBarre are considered portable as both barres are free-standing and do not require any mounting or anchoring to the floor.  Our wall mount or fixed barres are considered permanent as these are attached to the wall or floor (depending on type of bracket you choose).
Can I buy a double wall mount barre? I only see single barres on your website?
To create a double barre simply order two of the same size of barres and mount one over top of the other barre.
Can I use either the ballet or fitness bracket for both ballet and barre fitness?
You can use either the ballet or fitness bracket for ballet studios.  Only the fitness bracket is recommended for barre fitness.
Do you sell an adjustable barre?
We have one freestanding barre which can be adjusted by replacing different size legs.  This is called our Adjustable PortaBarre.  It's basically the same design as our PortaBarre.  For more information check out.
Do you sell an adjustable bracket?
We do not sell adjustable brackets.  We have listened to our customers concerns about brackets they have past from other suppliers, we have decided not to sell these.
Does EnPointe install barres?
We would love to come to your location and install your barres, however, this is not practical and totally unnecessary!  Anyone with "do it yourself" knowledge and with the enclosed instructions as well as the toll free number to provide support our barres are easy to install.  We are here to support you!  Click here for barre installations.  Exception to this rule is if we are installing your dance floor, at this time, we can also install your barres.
How do I clean my aluminum barre?
No special care is required to clean your aluminum powder-coated barres.  Simply clean with baby wipes or a cleaning cloth with or without cleaning solution.
How do I clean my wood barre?
Over time wood barres can become a little "sticky" from hand creams, and sweaty palms.  To remove the sticky residue or to prevent the barres from becoming "tacky" simply use baby wipes.  If however, the wipes cannot remove the buildup mix equal parts vinegar and water and apply solution to a cleaning cloth and wipe.  Once cleaned, wipe barre with a clean dry cloth.
How do I know how many brackets I would need for a ballet barre?
For a ballet barre, we recommend having a bracket approximately 4'-5' with up to a 10" – 14" extended over the end brackets.  A simple calculation is divide the length of the barre by 5, plus add one extra bracket.  For barres longer than 20' divide the length of barre by 4.5' and add one extra bracket.
How long does it take before my order is shipped out?
We try and keep a large inventory on hand for our standard sizes and ship within days of receiving your order.  If however, you are ordering during our busier times (August, September and December) or if you have a custom size, it can be several weeks before we can ship.
How long will the finish last on my barres?
The aluminum barres should last a lifetime without any maintenance.  Over the years wood barres may need to be refinished if they become tacky or the finish may rub off.  This is easily done with a good cleaning and sanding to remove any film and apply three coats of urethane or desired finish.
How many brackets I would need for a barre for barre fitness?
We recommend having a bracket approximately every 4' with little to no overhang on each end of the barre.  An easy calculation would be the length of your barre divided by four plus one extra bracket.  This should be the number of brackets needed for your barre.  Also, if joining two or more barres together to make one long barre, be sure to have a bracket at each join.  Ensure the bracket is in the middle of the join and add screw on each side.
I noticed you have 9' freestanding barres when all the other barres are even numbers (8', 10' etc). Why?
We have had customers wanting the longest barre possible without a center support.  So, we decided to make the longest barre before requiring a center support which turned out to be 9' in length.
Is it easy to move the free-standing barres?
All of our EnPointe free-standing barres are easy to move around.  Some of the longer barres with center supports may require two people (for ease and not because of the weight) and the shorter barres require only one person.  You don't need moving dollies or "muscle" to move our barres.
Is it easy to put together the free-standing barres?
Our all aluminum barres are literally a snap to put together!  Just insert the tubing and turn to snap.  You can put your barres together in seconds!  Our wooden barres require screws to keep the barres in place and take a few minutes to put together.
What about moving the barres through a doorway or hallway? What is the width of your barres?
You don't have to worry about the width of our barres!  We have recently added a little hole at the bottom of each foot of the barres.  Such a small hole which makes such a big difference!  Now when you need to maneuver your barre through doorways or narrow areas, simply swivel each foot parallel with the overhead barres and snap into place.  This also makes it easy if space is limited and you want to move the barres against the wall, or even better, hang the barres on the wall with two of our ballet barre brackets.  This redesign was on a suggestion made from one of our customers from Japan.
What exactly is a free-standing barre?
A free-standing barre is the same thing as a portable barre.  The free-standing barre is designed to be moved around easily.  The barre can be moved into place for instruction when needed and be easily relocated to the side of the walls or storage when barres are not needed.
What heights should I install my wall mount barres?
The recommended height of a single or top barre is 42" to 45" from the floor. For double barres, recommended height is 32" to 35" from the floor. RAD suggestions for examinations are "two heights, of approximately 102cm (40.16") and 115cm (45.27") are recommended but not essential".
What if I don't see the answer to my questions on this page?
If you have any questions that have not been answered, please do not hesitate to contact us either by email or phone 1-866-491-9019.
What if I have a window and cannot install a bracket to support a barre?
We have designed several types of floor mount brackets for those types of challenges.  Our floor mount brackets are available to accommodate a single or double barres.  This is the perfect solution for in front of mirrors, windows or other obstacles.
What if I want to buy an 80' barre? How is it shipped?
Locating long lengths of good quality wooden dowel is a challenge.  If we do manage to find a long length the barre can be warped or not have the characteristics we are looking for.  Also, the longest barre we can ship economically is 9' long.  This does not stop you from having your 80' length of barre (or any other desired length for that matter).  We simply make our barres in such a way that they join without tools.  When the barre is joined there are no gaps.  Click here and check out our specification sheet.
What if my snap does not seem to be "engaging" into the hole?
On occasion the snap mechanism does not "snap" and lock the pieces into place with your barre.  To make an easy adjustment, just remove the snap from tubing with a pair of needle nose pliers.  Once removed, gently pull ends a part 1" to 2" (there should be some resistance) and reinsert into tubing.  If this does not work (it should), try again pulling further apart.
What is barre fitness? It's mentioned several times in your website.
The best way to describe barre fitness is taking some of the form of yoga and flexibility of pilates, choreographed to music while using a barre. Barre fitness focuses on improving flexibility, posture, building your core, while building lean muscles at the same time. A little bit like an exercise class and dance wrapped up together.
What is the difference between a ballet bracket and a fitness bracket?
The ballet barre sits in a ballet bracket and the barre is secured from the bottom of the bracket with a screw.  Some call this a collared or saddle bracket.  The fitness barre bracket fully surrounds the barre, the barre slips through the bracket and secured with two hidden screws at the bottom of each bracket.  This provides the extra stability and strength needed for barre fitness.
What is the difference between the different barres?
We have two different types of barres – free-standing barres and fixed barres.  Both our PortaBarre and StudioBarre are free-standing barres.  We also have two types of fixed barres -wall mounted ballet barres or wall mounted fitness barres.
What is the difference between wood and aluminum barres?
Besides the obvious difference between the wood and the aluminum the choice is basically a personal preference.  Some like the warm touch of a traditional wooden barre and some like the cool feel of the aluminum barre.  Also your decorating scheme or the style may dictate what type you are looking for.  The choice is yours
What is the difference between your PortaBarre and StudioBarre?
The main difference is our PortaBarre comes in a carrying case and you can take it with you anywhere, slide under your bed or stand upright in a closet. Some have been so lucky to have been able to check the barre as "sporting goods" luggage on a plane for no charge.  The other difference is the PortaBarre is available in three different lengths (4', 9' and 13').  The StudioBarre has ten different lengths (4', 6', 8' 9', 10', 12', 14', 16', 18' and 20').  Both portable ballet barres are available in black, white or grey.  The StudioBarre also has the option of having wood barres with the black, white or grey ends.
What is the longest wall barre I can order?
We can handcraft any length of barre.  If you do not see the desired length, please contact us and we will provide a quote.
What length of freestanding barres have center supports?
Our 10, 12', 14' and 16' barres have one center support and our 18' and 20' barres have two center supports.