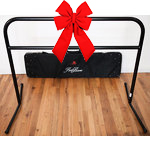 Shopping for your dancer? Here are some great gift ideas for Christmas 2013, both functional and fun for under-the-tree wrapping and hung-on-fireplace stocking stuffing.
En Pointe Portable PortaBarre
The number one, ideal gift for any dancer (who doesn't already have one!) is the portable and personal PortaBarre by En-Pointe. The 4 and a 1/2 foot ballet barre is perfection in at-home equipment; for warm up and practice, this practical yet desired tool would be welcomed with open arms (in any position!) and without doubt, put right to use. Easy to set up and take down, the barre also comes with a carrying case and tucks neatly in the closet or under the bed. In black, white or gray, this gift is $295.00 and is available right here on www.en-pointe.com.
Chanel Natural Finish Loose Powder in Moon Light
To sparkle up the holiday season and accompany any dancer's costume, outfit, or leotard, this beyond-sparkly pot of powder adds an incredible amount of shimmer to the exposed skin with simply one light dusting – meaning it will last a lifetime! (Well at least a long time.) Perfect for under the light on stage, it also brightens up the everyday; this limited edition of goodness comes with a small pouf applicator and will make any dancer smile with excitement at a the new, girly treat. Available at theHudson's Bay Company and other Chanel locations, the price tag for this item is  $52.00
"Ballet is Fun" Turnboard
Practicing made a tiny bit easier, this small turnboard – about the length and width of your foot itself – sits snuggly between your ballet shoe and the floor's surface, allowing for an opportunity to practice your pirouettes with little friction and ease. Available exclusively at Discount Dance Supply for around $35.00, it is the perfect stocking stuffer that will perhaps surprise the receiver with delight at this new and helpful sidekick.
Here is the description from www.discountdancesupply.com:
"Master your pirouettes by practicing on the Ballet Is Fun Turnboard! Designed to have little friction, the turnboard will aid you in completing full or multiple rotations while you focus on spotting, balance and posture. Size: 11″ long."
Happy Shopping!
– love from J