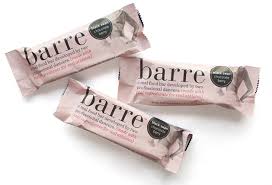 When it comes to fuel for the dance floor, dancers can get back to the barre with a new product titled Barre; it is a real food bar or "dance bar" and is the latest in gourmet on-the-go nutrition. Designed specifically for the dancer and the dancer's rigorous lifestyle needs, this "real ingredients for real athletes" formula comes in three different flavors offering up great taste for sustained energy.
A day as a dancer requires energy far surpassing the usual intake of those living it; here lies a lack of proper food and nutrition. This is understandable, as pressures and time constraints limit the dancer's options and access to good choices. There's calorie intake to consider, a figure and weight to uphold, few minutes in between classes and rarely time to eat and digest, the necessity of packing ease and the need for a snack to be small enough to stash in the bag, and it has to taste somewhat desirable to encourage one to reach for it.
Alas, a solution has been presented. Designed by two professional dancers currently working in the field, their testimonies do proclaim, "Dancers do eat," and express the importance of being cautious of what you do intake in order to better your performance as an artist. This knowledge of both Julia Erickson, a Principal Dancer with the Pittsburgh Ballet Theatre, as well as Aaron Ingley who performed with the Pittsburgh Ballet Theatre for nine seasons, has stemmed from their extensive careers and concerns when on and off the floor. Taking care of the body is to take care of your artistic tool, and thus the real food dance bar came into fruition.
After testing out energy bars and realizing they did not deliver substantial requirements for a dancer, the lack of "real food" listed on the energy bar packaging proved reason why. Barre believes, "We also feel strongly about food politics and advocate for a diet of whole foods as close to their original form as possible. This helps maximize nutritional absorption, minimize fossil fuel use, and fight the obesity epidemic."
High in Omega 3's with no refined sugars, these bars include ingredients such as cocoa, cranberries and dates which are used for their high level of antioxidants, flax and hemp seeds being a major source of energy, walnuts being "brain food," oats, pecans and sea salt. Compact into an easy to eat supplement treat, this is the perfect boost while in training or performance as an intermediate, elite or professional dancer. Keep in mind it is also great off the floor, and its real food concept can benefit every athlete, every artist, every one.
Next time you pack your dance bag, make sure to properly prepare yourself with either the Black Swan Chocolate Cherry, the Pirouette Cinnamon Pecan (the original Barre flavor) or the Ballerina Spirulina. These dance bars are available at select Whole Foods stores as well as on www.realfoodbarre.com. Retailing reasonably for $2.50 for a 50 gram bar, our En-Pointe favorite is the Black Swan Chocolate Cherry; enjoy!
– love from J