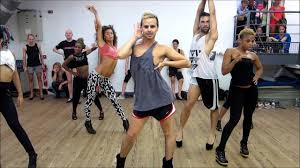 Have you ever given thought to the variations of dance which occur globally? Sure, it's always jazz tap and ballet essentially, but expose yourself to the creativity of Paris, other European cities and other global cities and you'll be profoundly amused. Similar enough to understand yet distant enough to appreciate, routines taught in class, performed by dancers, and created by choreographers such as Yanis Marshall will turn you on to unique crazes while igniting an interest in the fun that is the discovery of international dance and its stars.
Following a friend's link on Facebook, I first came across a video of Marshall's featuring him and two other men doing a routine filmed at Studio 68 in London, England. It was a mash-up of Beyonce songs and this collaboration was performed in heels, featured sharp, trained moves and executed incredible attitude. The routine was soaked with style and immense ability. It was raw talent and pure genius.
I followed the caption to his website and discovered he was based in Paris, France. Here he choreographs regularly at the Studio Harmonic twice a week and teaches Jazz and "Jazz with heels." Now drawing dancers worldwide to the address: 5 passage des Taillandiers, I can certainly see why. Everyone wants to dance like or with Yanis Marshall because it just looks like so much fun.
His web page, including a lip-sync'd, choreographed Spice Girls piece when you first enter the site, makes you want to smile and move with him – in front of the Eiffel Tower, on the streets of Paris, and in the studio. Extending his influence, he connects dance to fashion, as Marshall even performed the opening of Anouki Bicholla's fashion show a few years back. To say the least, it brought new meaning to the word "strut."
This is now a new dream destination – a dance in Paris – a dance class at Studio Harmonic – thanks to someone like Yanis Marshall exposing the world to his European style. Inspiring to say the least, expanding our training to other countries and exploring what dancers worldwide have to offer is an exciting, helpful and influential dance opportunity.
Make sure to visit www.yanismarshall.com!
– love from J