Brackets are actually very important when thinking about what kind of barres you need for your studio. You may not realize all the brackets for barres options available to you from EnPointe! We offer many types of brackets for barres, so you have quite a few to choose from.
We manufacture our brackets from high strength aluminum and then they are powder-coated several times to give a great high-gloss finish that is extremely durable and long lasting. Our brackets are not only functional but look esthetically pleasing too!
The dimensions of the wall mounted brackets are 3/4″ wide, 8″ deep and extends 7.5″ from the wall. We recommend installing them every 4.5' for our wall mount barres.
This photo shows our bracket for wall mount barres in black with samples of our wood and white aluminum.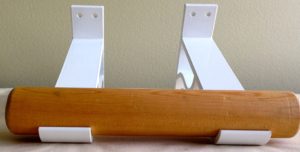 Bracket color is also important when you are trying to achieve a 'designer' look to your studio, whether at a commercial dance studio or at your home studio. So if you want to match to a particular color then choose from black, white or gray aluminum brackets for barres.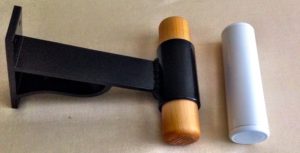 If you need a wall mount barre we have either open brackets, for ballet, or closed brackets for fitness as well.
Have an odd shaped space to fill or you would like a custom barre in front of a mirror? Well we have floor-mounted brackets for either a double or single barre.
Here is an unfinished floor mount double bracket for barres so you can see it before being powder-coated.

You can use our brackets to hang one of our StudioBarres out of the way for storage. Our freestanding barres have swivel feet to hang flat!
It is always an idea to give some thought to the use of the barre in your classes so you can choose the correct type of bracket.
We are here to help too! Call us, send us a message on our EnPointe Facebook Page page or email so we can share our expertise.
Already have our brackets? Send us photos – we love hearing from our customers.