So. You've run out of ballet barre space in your Studio?
The wall mount barre has become too crowded perhaps?
Dancers are being squished?
No room for new students?
We're talking today about our freestanding ballet barres and how they are a great solution – creating more space for students in dance classes.
A bit of info about our freestanding barres too – they come in various lengths from four feet all the way up to twenty feet! Color options to choose from are gray, black or white aluminum or aluminum and wood. The wood we use is Hemlock, beautifully made with a smooth finish.
From experience we have noticed that the gray is a very popular choice for our freestanding barres in all aluminum. Mainly, our customers say, to match their vinyl flooring. Keeping the look of your studio decor in mind is important too – we know you all like to design spaces with colors matching to create a wonderful studio for your classes.
So maybe you are wondering how many dancers you can place on each freestanding barre? Good question!
First consider how many students you have to accommodate. You need about three feet of space between each dancer. So our ten-foot StudioBarre™ easily fits three dancers on each side, providing lots of room!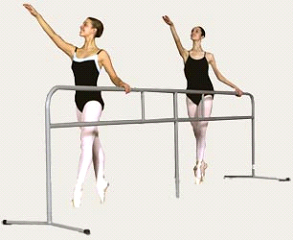 Grey Aluminum Freestanding Barre
We can help you with these decisions too – that's where our many years of experience in providing ballet barres to dance studios and ballet companies comes into play – and we are happy to share that expertise with you. That is what sets us apart and our customers really appreciate our attention to detail.
Our StudioBarres™ are very sturdy, quickly put together, will last you for years and are also easy to store out of the way or move around for placement changes during classes – making them very portable! We've designed them with swivel feel for ease of access through narrow hallways and doorways. With the feet able to swivel flat our freestanding barres can be stored against a wall or even hung on a bracket.
We'd love to hear from you about this topic – leave us a comment! What are your challenges when you have more students than you can accommodate on a wall mount barre?