We're going to offer a very brief history lesson today as we thought it would be interesting to share the origins and some facts about ballet.
Did you know that Ballet has its origins in the Italian Renaissance courts of the 15th and 16th centuries? The word ballet comes from French and subsequently used in English around the 17th century. The French word in turn has its origins in Italian balletto, a diminutive of ballo (dance). Ballet actually traces all the way back to Italian word ballare, literally meaning "to dance"!
In France, Ballet was developed to be performance focused and it was during the reign of Louis XIV who was so passionate about dance. Louis XIV had his own ballet teacher, Pierre Beauchamp and it was Pierre who codified the five positions of the arms and feet for ballet.
An Italian violinist, dancer, choreographer, and composer, Jean-Baptiste Lully, joined the court of Louis XIV in 1652. He played a significant role in establishing the general direction ballet would follow for the next century! Louis XIV was fourteen years old when he danced five roles in a 12-hour ballet -Lully's Ballet de la Nuit (1653) –  here he made his debut at court.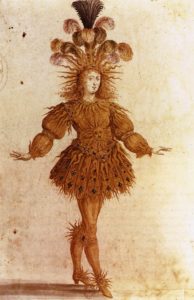 Louis XIV as Apollo the Sun King
Moving swiftly ahead in time to the 18th century. Technical ballet standards really advanced during this time. It was considered on par with opera and became a serious dramatic art form.
Then there is the female dancer's tutu, as it is recognized today which began to appear at this time. The tutu was made up of a short, stiff skirt with layers of crinoline or tulle that revealed the dancer's acrobatic legwork but was combined with a wide gusset to preserve modesty *blush*.
And now we are in the 19th century (my how time flies) and what had been a mainly male art form, now featured women. The ballerina became the most popular dance performer in Europe during the first half of this century, which was a period of great social change. Often the heroes were played by women!
Geneviève Gosselin, Marie Taglioni and Fanny Elssler were ballerinas who experimented with new techniques such as pointework that gave the ballerina prominence.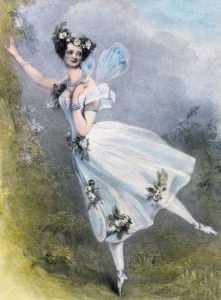 Marie Taglioni as Flore in Charles Didelot's  Zephire et Flore. Hand colored lithograph, circa 1831. Alfred Edward Chalon (1780–1860) (artist).
France was instrumental in early ballet. However, other countries and cultures began to adopt ballet as an art form – especially Russia.
The era of Russian Ballet put a lot of emphasis on technique, virtuosity and strength. It demanded strength usually above the norm of contemporary Western dancers. Once World War II was over, Russian companies toured several times all over the world, revitalizing ballet in the West.
Michel Fokine was a groundbreaking Russian choreographer and dancer who began his career in St. Petersburg but moved to Paris and worked with Diaghilev and the Ballets Russes. In addition to technical virtuosity he demanded drama, expression and historical authenticity! One of his most famous works was The Dying Swan, which was performed by Anna Pavlova.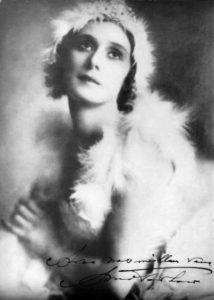 Here is Anna Pavlova in costume for The Dying Swan  Buenos Aires, c. 1928, by Frans van Riel. With an autograph.
Jumping ahead again and now to the US – George Balanchine and Frederick Ashton were both prominent choreographers associated with what is now known as neoclassical ballet, a style of dance between classical and today's contemporary ballet. Many of their neoclassical ballets are still performed today!
Speaking of Contemporary – we all know who trained with George Balanchine – yes – Mikhail Baryshnikov! The most notable modern choreographer he worked with was Twyla Tharp.
Twyla Tharp choreographed many 'contemporary ballet' pieces, considered innovative for their use of distinctly modern movements melded with the use of pointe shoes and classically trained dancers.
Here our history lesson ends. We hope you enjoyed reading about some interesting facts. We thank Wikipedia for their information – please visit their page for a more detailed history of ballet – Wikipedia