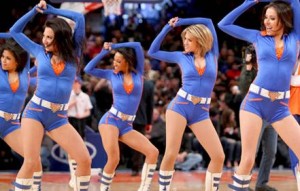 When it comes to a nice set of legs, there's a fundamental formula for getting them. From the foundational work to esthetically topical applications, this itemized guide includes tip and tricks including the must-have products – one invented by a Knicks City Dancer herself.
Work it out: Starting with the work, it's no surprise dancers have nice legs because of the strenuous training they put their bodies through. But strengthening and toning can be found out-of-studio as well; the coined "runner's legs" a perfect example of how basic exercise can promise results, enhanced definition of calf muscles gets paired with the constant burning of fat for those who run it out. This results in a leaner frame and slimmer legs – an excellent way to quickly achieve this hot, athletic look. So keep dancing, get to the studio – and get busy outside of it too.
Tip: To Boost the success of slimming out specifically the thighs, the Zaggora Hot Pants are an absolute must. The brand's Celu-Lite Technology is multi-layer fabric harnessing the body's natural heat during exercise to help burn more calories. It will get you sweating like crazy, but you won't notice it until the moment you have to peel them off your body. Made mainly of Neoprene, you'll feel like a scuba diver but be thrilled with the results rather immediately as the loss of liquid alone after one use will blow your mind with new slick stems. Hot Pants range from $59 to $99 and are available at www.zaggora.com.
Keep it clean: Clarisonic cleansing devices for your face have been the talk of the town for a while now. But did you know they made one for the body? With sonic speeds gently spinning away the dirt, the body brush head is slightly larger covering greater surface area while you shower.
Tip: Because the vibrations encourage blood flow to the specific area, using the Clarisonic on your thighs will give the cellulite fight a bit of a boost activating circulation. The Clarisonic Plus Sonic Skin Cleansing System is available at Sephora for $225.
Shave: Waxing seems great until you hit the grow-back phase. No one wants to go through life with even remotely hairy legs. And unless you're lasering, your option is Nair or razor. Amongst the selection of latter, you'll find packages of the cheap met with expensive behind-the-counter (yes) solo razors. So what do you pick?
Tip: Ladies: use a man's razor. You know the Secret brand slogan "Strong enough for a man, made for a woman"? It sounds promising for deodorant but what about the machs and the schicks? Substantially better than any female razor on the market, some men's razorsare even powered by Duracell, such as the Gillette Fusion ProGlide Silvertouch Power Razor. It boasts, "The best a man can get," but no one's stopping the girls from getting in on it too. This particular model, a futuristic silver handle, easy to hold, will begin to buzz and vibrate with a click of the circular button on top. It features a 5 blade ProGlide system with a micro comb that helps guide stubble to the blades as well as 1 precision trimmer  glide system. Effortlessly speeding up your leg with an easy motion  of its thin, fine blades, it's like the magic wand of razors. Your legs will be smoother than ever. This razor is available at www.drugstore.com for $12.49.
Tend to your skin: There is a product out there called Tend Skin. It's one of those jackpot potions you come across very rarely, and all of a sudden it changes your world in that you can rely on the liquid to save your skin and its appearance. With Aspirin as its main ingredient, applied topically it can solve ingrown hairs, razor burn, acne and even heal bug bites while taking away their itch. With a tiny, satisfying sensation when first in contact with the surface of your skin, it soon goes away along with your skin's unflattering issues.
Tip: Tend Skin comes in a roll-on version, ideal for tossing in your bag to cure any problem on the go. The brand also makes a fantastic non-foaming shaving product called Air Shave Gel as well as a waterproof moisturizing body lotion which can be used on the face and the body. Who knew waterproof lotion existed? This is a great idea because it will lock that moisture in place which helps with that bright and healthy glow. All Tend Skin products are available at www.tendskin.com; the roll-on sells for $20.
Duh, moisturize: Applying lotion should be part of your great-leg routine. If you're after that return of radiance, kick dull skin to the curb and get moisture bound. AMOREPACIFIC is a fantastic brand to seek out offering luxury lotions which provide 24-hour time released moisture. Rest assured you'll still feel the power as soon as you put it on, you'll get instant gratification with its slickness. It's not thick and absorbs wonderfully, with a fantastic and simple lotion smell – not too floral, not too stinky like some firming creams are; just a clean and happy scent which doesn't overpower.
Tip: By far one of the best all-around body lotions out there, in addition, its chic white container with thin silver pump is attractive enough to display on the counter. By keeping your lotion out and visible, it will encourage regular usage and keep you as smooth and moisturized as possible. The Moisture Bound Vitalizing Body Lotion is available through Neiman Marcus for $100.
 Go on a diet: Sunday Riley offers a product called Liquid Diet which temporarily reduces water weight. If you need instant relief from puffiness or swelling, spread this treatment on pre-event (or pre-game!) and it will help drain out that excess fluid. Available at www.sundayriley.com this product retails for $105.
Tip: Pair it up with a cheap top coat such as Johnson and Johnson's baby oil to give your legs Knick-dancer-shine.
Go Fishing: Fishnet stockings are the best kept esthetic secret of the Performing Arts. Dancers practically live in nude-colored fishnets because, from a distance, they're invisible and yet make your legs look great. On stage and off, this pair of pantyhose is where the magic's at. Now if only nude came in your color…
Tip: Remember when you were a kid and had to pick between the not-quite-right beige pencil crayon, the brown, or else the bright yellow for filling in the skin tone of your portrait picture? Well that problem funneled in to female stocking shopping where the word "nude" was supposedly right for everyone. Erin Carpenter, while dancing with the Knicks City Dancers, identified the need for a spectrum of nude tones and created the brand Nude Barre, perfect for dancers and anyone looking for their correct shade. Similar as to how one would purchase their foundation and makeup product, 16 shades from Peach Melody to Mudslide are offered in solid stockings as well as the famed fishnet. Fishnets from this palette are $28 and can be found at www.nudebarre.com.
Now armed with your cheat sheet, it looks like its time to run to the shops and get working on your legs. Get the pom poms out and get ready to cheer over the results a lotion, potions and fishnet away. Go Knicks.
 – love from J