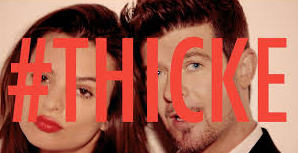 Come on and bug me if Robin Thicke's on; this jammy album worth grooving to with classic Thicke hit after hit. Blurred Lines features the single of the same name, a song currently topping summer 2013's billboard charts and making history as the first track to sell more than 400,000 downloads in four different weeks.
Claiming this famed song of the summer title, It was a smooth move releasing this hit, its controversial topless video, and Radio Shack commercial when the sun was out and shining. One need only review success stories from the recent past to identify what a difference it can make on a career. Look at Barbarian Rihanna's Umbrella topping the US Billboard Hot 100 for seven consecutive weeks or Canadian craze Carly Rae Jepsen and the song that reached epic repeat annoyance Call Me Maybe just last year.
By mid summer of this year, Blurred Lines was already breaking records for radio audience. The track reached more than 242.65 million listeners according to a press release from Interscope by July 28th. And though some still question the power of Daft Punk with their hit Get Lucky, also featuring the turn-it-to-gold singer and producer Pharrell Williams like "Lines" does, there's no doubt who's winning the race between the electronic robots and the model team of Emily Ratajkowski, Jessi M'Bengue, and Elle Evans.
Number one song aside, Daft Punk also rings unlucky album-wise in comparison to the content backing Thicke's. Thicke's being a roster composed of songs similar in sound yet different in beat, the flow is complimented with variety. It doesn't require the jump-to-the-good-ones DJ'ing because one good song after the next is an unsurprised treat.
Top of the world features a jazzy descending three-note pattern that makes you want to sway your shoulders to the smooth tune. Its lyrics tell you about a little girl picked on at school; "Yeah she had funny teeth, all the kids called her tooth head," from "retail, waitress, hot dog on a stick" you find out for her passion doesn't let it end like this.
There's more soul, and there's also the sure-to-hit-club tracks. Take it Easy On Me sways between a techno and mellow blurred blend; cute Ain't No Hat For That  is so cheery it starts with a child's voice stating the title; Pressure with the "ooohs" of a Justin Timberlake is sure to make people question who it is when it comes on the radio; and the sexed up sound of Put Your Lovin' On Me will make Thicke fans swoon till they drop.
And if, by the end of listening to the entire album you're still wondering what rhymes with hug me – line made famous by Blurred Lines, check out Buzzfeed's 18 Words Robin Thicke Should Know Rhyme With "Hug Me", the favorite being "Doug me," a shout out to the 90's animated sitcom, Doug.
– love from J