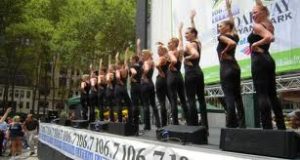 The life of a dancer isn't cheap. Classes are expensive and if you're training in a city, such as New York, the rest of your life is too. There isn't much left over for pleasure, never mind taking in a Broadway show. It may be the love of your life, but at a $150 ticket stub it usually is reserved for those we all hope to perform for one day. Luckily, this summer Bryant Park is cutting Broadway lovers a big break with a chance to catch performances from the top shows. Live and free, presented by 106.7 Lite FM, this event continues to run again this year, thru this summer and now into August. Hosting shows first up on the 1st, new shows will come on August 8th, and August 15th.
Today's line up includes Spider-Man: Turn of the Dark. With music by U2 accompanying the beloved and classic story, this show will be up first, followed by Tony Award-winning Kinky Boots, Big Fish, and First Date. The day's run will be hosted by the radio network's Bob Bronson so head to the park now for an afternoon of never-better performance.
Everyone's favorite, Delilah of the guru-chat radio show, will host the gig on August 8th. This will begin with Annie the Musical, followed by Wicked – an all-time favorite of many, Cougar the Musical, and The Fantasticks – one of the longest running shows on Broadway.
Last but not least, August 15th will include Motown the Musical, Once – the incredibly powerful love story not to be missed, Mamma Mia! (which yes, is still on Broadway!) and Forever Tango… hosted by Rich Kaminski.
All will commence at 12:30 on the lawn at Bryant Park in midtown, Manhattanat 42nd Street. Get there early for a great seat!
– love from J