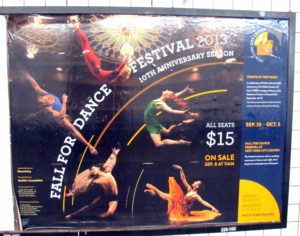 Dancing in the streets, dancing in the subways; it's even on the walls, where this poster is spotted on the everyday commute promoting a chance to getaway for a second, a chance to Fall for Dance and enjoy their properly titled show.  
Celebrating the 10th season of this festival, from September 25th through until October 5th, these $15 dollar tickets go on sale September 8th at 11 am, surely to be snatched up fast at www.nycitycenter.org. In addition, it will kick off with two free performances in the park –Central Park that is – at the Delacorte Theatre hosted by The Public Theater. Those two shows will be held on September 16 and 17 and tickets will be distributed lottery-style day-of on location.
With 20 acclaimed dance companies from around the world, the festival with feature 3 new works commissioned byCityCenter. You'll see the likings of the favored Paul Taylor Dance Company, Ronald K. Brown/ Evidence and STREB Extreme Action Company.
In addition, Fall for Dance's annual DanceTalk series will offer pre-performance panel discussions in the New York City Center Studios (130 West 56th Street). Each discussion is free and open to the public.
Encouraged "tweeting" before, during breaks, and after the performance, bringing dance lovers together in a social setting and online is a trending opportunity for this favored annual event, so bring those Smartphones!
From tap to tango and everything in between, soak it in, let yourself go, and experience international talent packed into one of New York's finest venues – City Center – on one upcoming night this Fall.
– love from J