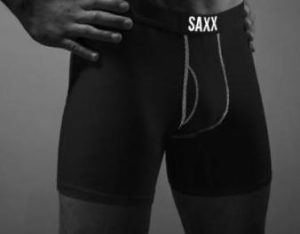 Your father may tell you he wants "absolutely nothing" – that may mean he just wants everyone to leave him alone so he can grill and chill in peace; fine. But if it's something interesting you're wanting to gift dad this time around here are a few ideas.  
1) Orlebar Brown Deckchairs Anniversary Print Bulldog Trunks; $295; barneys.com
Gauging how often your father buys new swimwear would be easy in that it's regularity veers on the slim to none side. However every summer the trunks come out; this year Orlebar Brown has released a new style titled the "Springer" – short and sharp – and although those may be just a little too 2013 for dad, it depicts how swimtrunks have come along way from thier timeline of heavy wooled suits to tiny briefs now seguing into outfit material; a stylish piece of swimwear can now be worn as part of an outfit, as a poolside or sunny cocktail hour short. Get him looking good with this fun pair of not-too-serious but high in quality trunks and chances are he won't be the only one thanking you.
2) Saxx Underwear Ultra Boxer Fly in Black; $29.95; saxxunderwear.com
All good gifts for men come inside a tiny Saxx box. Unleash the magic of the ergonomic pouch and introduce dad  – if he doesn't already know – to the best underwear on the planet. A true discovery, this pricey pair of magic is a piece of history, as the patented paneling between the thigh and the, ahem package, puts everything in its place. Beware, once you go Saxx you can't go back, paving the way for easy future gifting. Their material is comfortable and the patterns and prints fantastic; plus its box makes for an easy rectangular wrap job. This one's a winner; the safest and most popular cut and pick is the Ultra Boxer Fly in black – it's mid length and is 95% viscose; go Kinetic if you've got an athlete on your hands.
3) Sportiiiis Audio/ Visual Performance Coach; $149; 4iiii.com
Speaking of athlete, if you want to get gadget-y this Father's Day, opt for the ultimate performance coach. Accessorizing your accessory, the device attaches to almost any style of sunglasses and, with peripheral LED illuminating dots and an audible guide, your success in reaching personally set goals is easy to track during fitness. Brought to you by 4iiii Innovations Inc. its not only something new and fun for dad to play with as he syncs it up to his iPhone, it will encourage his health and better his exercise routine for one strong, happy dad.
4) Goal Zero Nomad 7 Solar Panel; $79.99; goalzero.com
Great in an emergency as the sun will always come out tomorrow, this portable solar panel charger is also great for summer camping, hiking, backpacking or sailing. With 12 volt DC charging ports and capability of charging two devices at once, it is light, relatively inexpensive, and simple. It can literally charge "as fast as the wall." Winning past Best Buy awards, this model and brand paved the way for an environmentally friendly  and overall quite helpful tool.
5) Jack Black Beard Lube 16 oz; $33; getjackblack.com
You may not be so quick to book your father a facial, but let's face it – men like them too. If you want to tone it down a notch but still offer up the joy of pampering, present to dad a tube of the Jack Black Beard Lube. A conditioning shave with jojoba and eucalyptus, functioning as a rich source of essential fatty acids the cell membrane can bind with moisture to the skin and create a protective barrier. Again – once you go Jack, you can't go back. The gift of smoothness is a great gift to give.
6) John Varvatos Platinum Limited Edition Cologne; $82; johnvarvatos.com
Who doesn't want their dad smelling like John Varvatos? With this new scent for men encompassing spices, herbs, citrus, woodsie notes, black leather and rich amber, you've got it all with this limited edition sure to be a treat for any father.
7) People Water BVR-1 Bluetooth Speaker; $189.99; braven.com
Last and certainly not least, the world of Braven Bluetooth Speakers just got a whole lot better – literally for the good of mankind.The IPX5 water-resistant, shock-and rugged tiny box of sound called the BVR-1 from Braven – wth its metallic blue face that booms and its plastic casing that looks like something from Mattel for adults – stepping it up, by purchasing the "People Water BVR-1" for only $10 more than the original (same product) on their site, instantly $45 of the purchase will go towards funding a clean water project. Go dad, go.
– love from J