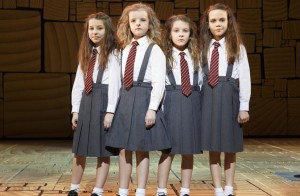 With 12 Tony nominations including Best Musical, little Miss Matilda is proving it pays off when talented kids are given opportunity to facilitate their gifts. Sometimes the foresight of what you're supposed to be "when you grow up" comes fast and thus acting on it by equipping young ones with the chance at a big break – at Broadway – is the best and only thing to do for a theatre kid. If spotlight is in the cards, name in lights in future, best to get training; practice, practice, practice is true for a reason and inherent gifts are meant to be developed and shared.
This  means signing up your children for class. Encouraging their success. And, like home schooling, building it into an everyday routine by establishing its place in the home, can be crucial; as structural as brushing your teeth, early stage discipline merits results.
What does this mean? Currently on Broadway is Roald Dahl's Matilda the Musical – book by Dennis Kelly, music and lyrics by Tim Minchin; playing lead role of such extravagance and privilege are four lucky stars – at the moment Sophie Gennusa age 9, Oona Laurence a native New Yorker believing "Even if you're little you can do a lot!" and Bailey Ryon on the National tour of How the Grinch Stole Christmas as Cindy Lou as well as blonde beauty Milly Shapiro. In addition to this now-running show at the Shubert Theatre, houses continue to host child triple threat featured shows including Annie, Newsies, Motown the Musical, Kinky Boots, The Assembled Parties and of course Disney long-running The Lion King. If you're young and looking for a big break, theBig White Wayis, more than ever, the place to find it.
Signing kids up for classes such as Broadway Babies, Little Maestros, and other child music programs will not only ignite their passion within, it will build a base and muscle memory and as they grow, become a part of them. When discussing training for children on the go and perhaps temporary set-ups in homes, schools and other learning centers, studio replication with usage of dance floors, proper mirrors and PortaBarres of professional standards to allow for stretching, strength training, posture and alignment exercises – not to mention simple overall performance presence – is of utmost importance. With a small investment in equipment that will not only last but easily be packed up, stored, set up, reused, relocated, and shared with fellow trainees, students and children is a great way to make use of what EnPointe has to offer as a company equipping performers, athletes and artists.
Building a stage in the basement may be out of the question. But providing a child with a PortaBarre in the bedroom, perhaps mimicking her ballerina dream by creating a dance studio in her very own bedroom (is doesn't take much with the amount of imagination children have) this will build her comfort with the barre and as she grows, it will be not only a part of her childhood but a part of her development.
Whether stage mom, whether the child already has headshots, whether dancing in the womb or not, it is never too late to pick up on a child's talent and identify how to best facilitate its progress. Professional training is key, but at-home equipment may not only be the next best thing, it may work hand in hand; who knows – you may have the next Matilda on those hands.
– love from J