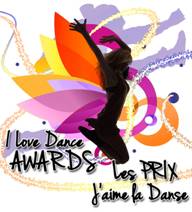 EnPointe loves dance
The upcoming I love dance/J'aime la danse Awards welcomes EnPointe Dance products in sponsoring Canada's first National Awards for dance, to be presented this October 21st,  2012 at the National Arts Centre in Ottawa. The I love dance Awards recognizes and celebrates donors and supporters as an essential part of Canada's dance ecology. Nominate someone in the donor category today! Nominations in all categories are open until September 14th.
"EnPointe Enterprises is committed to the design and manufacturing of high-quality products that are designed by dancers for dancers and incorporate strength with portability. We manufacture the lightweight Portabarre™, Studio Barre™ Wall-mounted barres and brackets,  PortaFloor™ and sprung flooring . We also distribute glassless mirrors, vinyl floor surfaces and staging.  For over fifteen years, we have been manufacturing and supplying dance equipment across North America and to various locations worldwide from British Columbia, Canada..
David Lucas and his wife, Lissette Salgado, were dancers with the Royal Winnipeg Ballet Company. While on tour, they noticed that facilities for dancer warm-up activities were very limited in the venues in which they performed. From this experience came the idea for a niche market item – a strong light-weight portable ballet barre. As a result, on their return to Winnipeg, David, along with his father, John Lucas, developed the PortaBarre™, which has since been extremely well received by all the professional companies and dancers worldwide.
In the years since the introduction of the PortaBarre™ EnPointe has launched many high-quality dance products for various markets.
All of our products have many applications such as dance studios, homes, yoga and pilates studios, physiotherapy clinics, recreational centers and educational facilities with dance programs."
[email protected]
www.en-pointe.com
1-866-491-9019
www.twitter.com/danceproducts
www.facebook.com/danceproducts