Unable to get over how superb of a show Pippin actually was, I felt the need to drive home the fact that, if you are in town or will be in the upcoming while, you MUST go see Pippin on Broadway at the Music Box Theatre in New York City.
Over the years, since I was 16 and saw 42nd Street right there on 42nd Street – my first Broadway show –  I have luckily taken in a lot of them. I have taken them in with my mom who used to bring me to New York for dance intensives and camps and trips. I have taken them in by myself – with a student-priced ticket in the first row or a $20-dollar standing ticket at the very back, from backstage (yes) and even from the lobby during the good ol' days in which I would sell show merchandise as a supplemental gig; as many as I have seen, I have never seen such as good of show as Pippin.
Still in previews, I previewed this last week with my sister who was down from Canada for a visit. At first unable to decide what show to purchase the $150 ticket for, we decided on Pippin as my love for anything Fosse influenced our choice quite drastically. It having been a while since I was at the theatre, I credited my absence partially for being so partial to this performance. But there was so much more deserving of credit.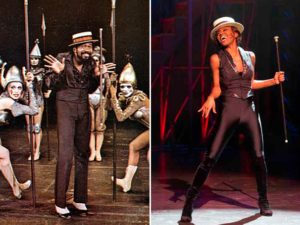 Can you say Tony? The "leading player" or narrator of the story and stunner of a dancer, Patina Miller captures the audience with the spirit of the show right off the bat, requesting one to "join us" as they put on this show of life with a mix of magic and pizzazz as the character of Pippin is edged on to discover the extraordinary thing he is meant to do with his life.
The first act, full of sharp dance, captivating song, acrobatics not far from what you'd find at Cirque du Soleil, and a hope of a story line leaves you stuck in awe all intermission. The pa-cha of all the dance movement is so accurate its astounding.
Then the second act slows it down to an anticlimactic finish, in which even the story line supports (or well, doesnt suppory), seeing as Pippin decides he's not in search of anything at all. An alright-then moment in my head, I felt a little let down, like someone just gave up and decided to wrap up the show. But in my Fosse-loving opinion, I didn't even care too much about the storyline as long as there were great dance segments, which there most certainly were. My only complaint would be that they didn't go on forever; I could have watched them dance all night long. But – and perhaps surprising to some – Fosse is hard work. Precision can burn. And the tiny pockets of the burst of movement are worth the enjoyment so don't miss it. Go see Pippin – today!
– love from J