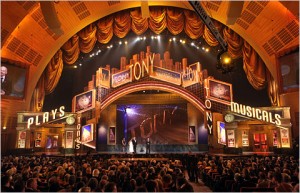 They say the neon lights are always bright on it and that there's always magic in the air. That magic feeling heats up around this time of year now that the Tony Awards are 27 days away – the American Theatre Wing's Tony Awards airing on CBS live at 8/7 Central and back where they belong, at Radio City Music Hall. After a short stint at the uptown Beacon Theatre, the show is back in Midtown, in the middle of it, in the middle of the greatest city of the world mere avenues over from Broadway itself where the highest form of a theater performance is found, inNew York City– theater paradise.
Nominations are out, deeming all worthy before the winner is actually announced. Thus now is the hottest time to see a Broadway show because technically they all could be winners; you be the judge.  
Of course Pippin has been nominated for a basketful of them (ten to be exact) including Best Revival of a Musical. Best Performance by an Actress in a Leading Role in a Musical will quite possibly be handed to knock-out performer Patina Miller and, industry favorite (known for belting out Elton John on piano for auditions) is easily said legend Terrance Mann. Chet Walker takes a break from his master classes at Steps to put himself up for Best Choreography and he channels likes of style god Bob Fosse in the unmatched attitudal, technical and powerful form dance. A theater lover's favorite, as that what the show is all about – living a dream – the American Theatre Wing is sure to favor this acrobatic – show stopping extravaganza of a Broadway Show.
Receiving a whopping twelve nominations is Matilda – to change the world it takes a little genius – adapted from Roald Dahl's classic, as a children's favorite goes up against drag queens (as usual on Broadway) fighting Kinky Boots for the title of Best Musical.
Orphans is up for Best Revival of a Play although Alec Baldwin will sit this one out as Tom Sturridge received nomination for Best Performance by an Actor in a Leading Role in a Play.
Going up against Tom Hanks for this spot, starring in the late Nora Ephron's Lucky Guy, this play also receives five other nominations including Best Play. Tickets have been hard to get for this one which is always a good sign.
Rodgers and Hammerstein's Cinderella is up for nine, Who's Afraid of Virginia Woolf, five, and a show most have yet to hear of receiving six titled, Vanya and Sonia and Masha and Spike. The Trip to Bountiful, Scandalous, The Testament of Mary, The Other Place, The Nance, The Mystery of Edwin Drood, Motown the Musical, The Heiress, Hands on a Hardbody, Golden Boy, Cyrano de Bergerac, A Christmas Story, the Musical, Chaplin, Bring It On: the Musical, The Big Knife, The Assembled Parties, Annie and lastly Ann all are shows up for a 2013 Tony with one or more nominations.
And although not in the mix this Tony time around, out there and worth seeing is a fantastic show at the Booth  Theatre; "Honey – work the room. You ain't here to eat." It was signed, "Sue Mengers." That was the inscription of which could be read on the Zippo lighter handed out as a memento at the Russian Tea Room the night of the premiere for I'll Eat You Last starring Bette Midler who gladly took on the role of iconic Hollywood agent known as the one people spoke of when said, "I'd never seen anyone push so hard to get attention."
Please, don't get up Bette – or Sue; we'll stand up in ovation for you. Correct, for her whole 90-minute monologue of a show she doesn't. She plays Mengers and tells stories of her Twinklies – her clients – like Barbara Streisand and the late, great Bob Fosse who she'd host envied dinner parties with and create talk about herself in the process of promoting these guests.
The dirty secret of an invite is yours for the ticket price at the Booth Theatre box office as, returning to the scene is talker Bette Midler after over 30 years away from the theatre. And into the living room of Mengers you may go. Smokes, pink and all.
For more up to date information on the upcoming Tony Awards hosted yet again by crowd favorite Neil Patrick Harris, visit www.tonyawards.com. Tickets for the actual show atRadioCityMusic hall are currently still available by calling Ticketmaster at (866) 858-0008.
– love from J