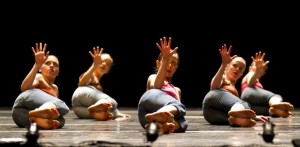 See us dance; move with us; learn about us. See/move/learn – the three word label belongs to Hubbard Street Dance Chicago – their dancing left as responsible for saying the rest. Going into its 36th season, Hubbard Street continues to be Chicago's international destination for dance however, their hometown of Chicago isn't the only place to catch the upcoming buzz; bringing the destination to you this time around as they prepare for a national tour featuring the company's two stellar programs, LA, New York, New Jersey, Illinois, Wisconsin, Indiana, Washington and Arizona.
In bare feet and tight-bunned hair, repertory is as cool as the Gap-like jeans they sport as they contort their bodies through air as performed in "Three to Max" by Ohad Naharin. In an accord by dancepulp.com, "Here we are introduced to this particular vocabulary which "dancifies" many everyday gestures with a witty effect. The movement is altogether wholly physical and minsicule. It is disjointed and sudden.They take turns with sometimes simple, sometimes funny, sometimes technical moments. We get to know them. THREE TO THE MAX is complicated, but joyfully so."
Technicality continues full force during Mr. Ek's "Casi-Casa" – the second program to be performed by Hubbard Street. Receiving much acclaim for what's to come to cities nationally, "Hubbard Street Dance Chicago ought to bottle itself as a cure for the ills of the era." – New York Times.
The main company of Hubbart Street is comprised of 18 versatile dancers; the second company, HS2, is a respected training program for the lucky six of 18-25 year olds chosen by audition to learn alongside the talented group and within such an environment.
Summer Intensive programs are also offered for those interested in training in such a full-force field, these classes held at Hubbard Street's home in Chicago as well as the Halsey Hall on the University of Iowa campus. With a main focus on ballet, it pushes the emotional angles of the artist and takes their ability to the edge with unmatched modern classes, identical company repertory and beyond talented, artistic staff.
In addition, drop-in style classes are offered to young dancers, young professionals, and the public at the Lou Conte Dance Studio on West Jackson Blvd, Chicago including ballet, jazz, modern, tap, African, hip hop, and fitness such as pilates, zumba and yoga.
For a complete scheduled calendar of their upcoming tour dates, visit http://www.hubbardstreetdance.com/calendar.
To learn more about the company visit http://www.hubbardstreetdance.com/ for more information.
Hubbard Street will be auditioning in New York City on May 27, 2013;
– love from J