Up first are the Brooklynettes. Out on the court tonight at the BarcaysCenterin Brooklyn, New York, this barely-a-year-old squad was fashioned after the move from New Jerseywhere their team, the Nets hail from. Clad in material the New York Postso cutely called "stretch leatherette," basically everything is spandex tight and either sparkly or striped. The girls are beyond "bootilicious" as they perform for Beyonce, Jay-Z and crowd (Jay-Z just recently selling his 1.5% ownership of the team yet still showing up as fan, courtside to the games.
Getting a workout in last Saturday, April 27 at theUnitedCenterwere the Chicago Luvabulls, the cheerleader-dancers supporting the NBA stars, the Chicago Bulls. With a first round playoff game going into triple overtime, the game lasted over 3 hours and yet the girls continued to shake and smile and follow captain lead with light-up pom poms, short skirts and "See Red" slogan t-shirts (knotted at the back of course).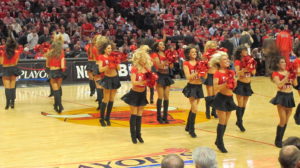 And then there were the Knick City Dancers. With, by far the best outfits not only in the five boroughs but across the board, not to mention the best dances, with a stand out selection as New York is known as dancer mecca and can acquire the talent, the fans aren't too bad either, thus Madison Square Garden always ignites for tip off, "and that's game," and everything in between. Similar to Superbowl, halftime alone is worth the ticket price. Not to mention their usually unseen commercial slots which they fill with shorter routines in-house.
So as we go forth with NBA playoffs dancers, stay tuned – you might get a kick out of the game too; check out the dancers which rally up the crowd and shake up home courts for the next few weeks to come nationwide.
– love from J