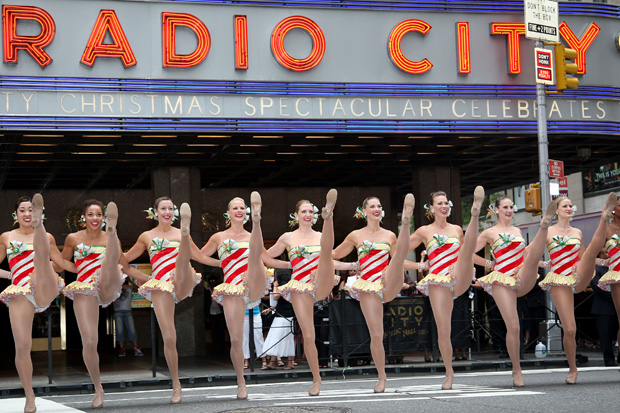 I have this old, long-sleeved shirt that reads "RADIO CITY" across the back, college-style from one shoulder to the other, in big white letters. It's one of my favorite things I own. At 5 foot 10 and having grown up with the desire to one day be a Radio CIty Rockette, I wear it with pride and hold onto it as a memory of the excitement and struggles that go along with such a dream. Traveling to New York for summer Rockette Intensive programs at the music hall brought me closer to the realization of: one – how hard it would be to achieve and two – how possible it actually was. From then on, high school after-hours were spent at the dance studio and college ended up being the Canadian College of Performing Arts. After that I attended Broadway Theatre Project where I met and trained with real Rockettes and in New York I eventually ended up at Steps, a studio on Broadway where I continued to train with some and, the best part of all, be mistaken for one by a teacher (clad in my Radio City shirt, of course). I had this  video recording of them performing at the Macy's Day Parade and watched it so many times it the video broke. I'll never forget it – the song was from the Polar Express and they sat on and spun these large square blocks. I can still here the "ooh, hot chocolate," part and visualize the moves.
I was never a real Rockette, but still, to this day, I tell the occasional person about my Rockette dreams, show off my kicks if someone insists, and wear my shirt around because putting it on makes me smile. If I recall correctly, I even got a discount at the shop when purchasing it because apparently that's what you get when you're a Rockette, which is what the merchadise teller thought I was. Hard to believe that, to this day, I still get A KICK out of it; perhaps the best things never leave you. I was doing some jumping jacks after my run today, sporting this old shirt. It was down by the river, part of my routine now that I live down in Manhattan's beautiful seaport, And as I finished, this man sitting on a nearby bench asked if I was "one of those Radio City Rockettes." I told him that I used to be, just for the fun of it. He congradulated me and I was slightly emotional at the thought of having given up on one of my biggest dreams. But life leads you in ways you could have never imagined and that's okay. My appreciation for the Rockettes – there's nothing like them – will never change..
So here's everyone's chance to kick with the Rockettes and celebrate alongside them. National Dance Week, which although is April 26 th May 4, will celebrate the 85th anniversary of the Radio City Rockettes by hosting a "Kick It" Challenge in commemoration. During the month of November (yep, it's comin' up!) you can upload a kickline onto youtube and link it to nationaldanceweek.org.
Here are the categories:
under 6
ages 7-13
ages 14-18
over 55
longest line
most votes
Rockettes favorite
College dance teams
Cheer team/ dance team
9-5… anyone over 21 not in school
Most unique
Fitness class
SO SET YOUR GOALS HIGH AND YOUR KICKS HIGHER! Remember, keep it eye level like the real Rockettes and don't hold onto each other's back while in line… and most importantly, flash that Rockette smile!
Visit: http://www.nationaldanceweek.org/kickline/2012/
– love from J