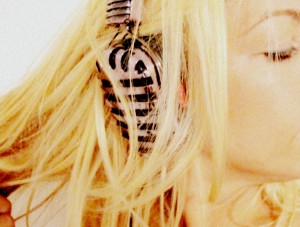 We may not all be Janet Jackson back up dancers, but most of us are used to listening to our dance music good and loud, on stage, in the crowd or in class. And this, what we have grown accustomed to hearing boom through the dance studio, is most likely desired in our everyday – whether working out, on the go, waiting for public transportation to get us to rehearsal, or at home at work on our En-Pointe PortaBarre! So what to do if you can't blast music freely in your public spaces… how does one get that feel of the beating sound waves? Headphones… there are great ones out there; perfect for dancers who crave that loud beat, everywhere, all the time. Here are the top three chosen for our 5-6-7-8 blog recommendation.
No. 1: If you spot the "b" you're in the winning circle – quite literally. With the brand's b parked atop the center of each ear's phone, Beats by Dr. Dre recognition goes along way and for good reason; they're spotted and known as the best. Ruling the market not with competitive price points but with the highest of quality, take one listen on your friend's set or don't be shy, ask a stranger. Proud owners will most likely lend a listen to their prized possession as everyone is flattered to show off their Beats from coffee shops to the streets. Most likely your extended demo will make a devotee out of you and off to the store you will go for your very own set of Beats.  
With a serious selection for professional musicians, intense music lovers and DJs, the Studio, Executive, Mixr and Pro styles set you into the $300 price range. What the everyday dancer/Beaters are most likely wearing is the Solo, the perfect mix of sound and style; yours for $199.95, you can order them through their main website: www.beatsbydre.com.
No. 2: To amp up the eye appeal, Throne by I-Mego creates the awe you crave as this pair is sure to drop some jaws. With a foamy leather headband, classic stitching, stylized embroidered logo and an ear that resembles an old fashioned microphone Elvis Presley might swoon into, you'll still get that crystal clear audio out of a chrome-gold casing. Incredibly cool looking, they are also incredibly comfortable, with cushy rests for the ear and an easily adjustable size feature in which the whole headband slides up and downward smoothly into place. Our second recommendation is available online at www.i-mego.com for $129.99.
No. 3: Another company to seek out is UrbanEars. And not just because it sounds smart, or because Lena Dunham from HBO's Girls has been spotted in them (orange ones paired with a matching Dunkin' Donuts cup). With warm fall colors available now online, these super comfortable headphones come with features such as the dual-duty TurnCable and ZoundPlug – and they fold cutely into themselves. Dishing up that DJ-loving boom-boom-boom, that's who's using them, as perhaps you've heard of or danced at the Mad Decent Block Party, a DJ-scene sensation strongly affiliated with UrbanEars which made its way through the USA and Canada this summer. Your ears are in good hands with this choice, even if your ears are suburban! Go for the "Zinken" model available at www.urbanears.com for $99.90.
Take note, this company has also released an "Amsterdam Dance Event" limited edition pair of their Zinken model; super cool and bright yellow, this celebratory pair features the festival's trademark colors and allow you to "get your dance on wherever you are in the world."
Hope you find your perfect pair!
– love from J