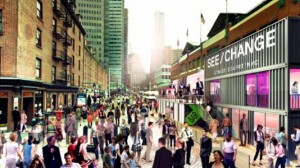 The South Street Seaport is giving fans the old razzle dazzle. Setting up temporary shop as storefronts continue to rebuild post Hurricane Sandy, pop-ups are reopening including the neighborhood go-to for cheap theatre tickets: the Theatre Development Fund's downtown TKTS booth.
Located amidst the "Sea/Change" campaign kiosks and vendors, TKTS participates as the foot traffic in the area picks back up. This area at Fulton andSouth Street– directly across from Pier 17 – is coming together. Complete with strung lights, free outdoor cinema and a "Smorgasbar," this appreciated outdoor façade is credited to the continual efforts of the Howard Hughes Corporation to bring the zone A back to life.
Indeed this new addition, fresh as of Friday, July 5th 2013, will accommodate both local downtown residents and savvy tourists making the trek to avoid the crowdedTimes Square location. Located kiddy-corner from one of the main hop-on hop-off tour bus stops, it is even easier to find for out-of-towners than its original downtown Front andJohn Street location. Although it will eventually return to its home, housing this portal in the Seaport within the themed shipping container of a building is perfect for summer.
"We're thrilled to again serve theatregoers living and working in Downtown Manhattan," said TDF's Managing Director Michael Naumann. "We felt that we owed it to the community to be back for them this summer. The rebuilding of our permanent location was taking longer than we had hoped, so this temporary booth, just steps away at Fulton and South Streets, was the perfect solution."
Opening at 11 AM, TKTS is the perfect way to lock down day-of tickets for Broadway shows in midtownManhattan. At 50% off the box office ticket price for both Broadway and Off-Broadway, it is a way to benefit everyone by filling out the theatres while offering the cultural experience to those otherwise missing out due to budget. Waiting in line is never fun, but worth it – and definitely shorter if you head to the now-open Seaport division.
– love from J