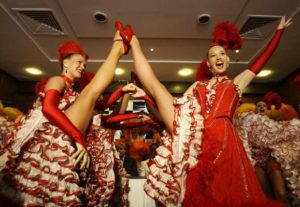 The Moulin Rouge has hosted famed dance shows inFrancefor over 120 years. Its iconic chorus line of the high energy can-can, however provocative and skirt-lifting, shows off impeccable technique mixed with personality and physical demand. Popularized with its 2001 Nicole Kidman/ Ewan McGregor American blockbuster, the cultural institution continues to seek performers to grace the stage – however not in theUSAitself. With only three Canadian cities listed in their North American audition tour, it looks like the Canuck may have the upper "step" at acquiring this particular professional dream. 
Nationality aside, let's look at the artistic criteria. Stated on their website, www.moulinrouge.fr, "Serious dance training with a good classical base and advanced modern/jazz" as well as "great stage presence and bright personality," is a must. With a strict height requirement – similar toRadioCity's Rockette measurements, one must hit higher than 5 foot 9 inches– 6 foot 1 inches for male dancers. As if a "slim, graceful figure" had to be pointed out as necessary for those who will sport the necessary classic costume, it's this whole package that counts for those eager at the shot.
If you think you've got the imperative cartwheels and splits to grace the mythical stage, show up in a leotard, tights, and flat or heeled shoes with your hair tied back and light makeup. Attend one of these listed audition locations and be prepared to learn a mix of choreography and multiple combinations.
(Torontoaudition has already taken place.)
Montreal:
Thursday, July 4, 2013 at 12 p.m.
Studio-Bizz, MontRoyal: 551 Ave, du-Mont-Royal Est
Vancouver:
Saturday, July 13, 2013 at 11 a.m.
Harbour Dance Centre, Third Floor: 927 Granville Street
In addition, Janet the Ballet Mistress at the Moulin Rouge in Pariswill be holding an introductory audition class with a view to the future for 16-19 year olds at the Coast Academy of Dance and Performing Arts. Located at 5645 Wharf Avenue, Sechelt, British Columbia, it will be held on the 7th of July 2013 at 2 p.m.
Currently appearing every night at this legendary establishment are Canadians Cara lee fromVancouver,British Columbiaand Katelyn Adams fromToronto,Ontario.
– love from J