Every year we attend several Dance trade shows and as exhibitors we not only meet wonderful attendees, but we have also formed some great friendships with other exhibitors too.
Geoff Higgins is one of our friends from the trade shows and we decided to feature him in our blog. Geoff works in customer care at Rhinestones Unlimited. We were chatting at one of our shows and it turns out there is a lot more to Geoff than meets the eye!
He started teaching dance at age eighteen after graduation and is still doing so eighteen years later! He teaches mainly tap with some jazz, to students from a young age right up to the Dads Dancing Group. Yes – a Dads Dancing Group at Summit Dance Shoppe in Plymouth, MN.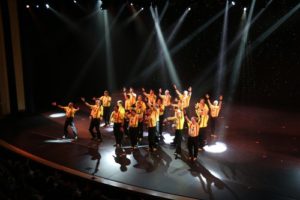 The Dads Dancing Group is not jazz, not tap and not hip-hop – it is just Dads that are dancing and having fun!
This year Geoff has thirty Dads in the group who dance on Monday evenings for one hour and then from January 1st they also dance for one hour on Sundays. They usually all have either daughters or sons taking dance classes, so this is a great way for the Dads to connect with their families and has created a some wonderful friendships. When they travel to competitions with their children, the Dads are able to hang out together and connect.
Geoff felt strongly about not having the Dads look silly or ridiculous. They volunteer for this group so he wanted them to learn and execute the dances professionally under his guidelines and expertise. They wanted to look good – and have lots of fun.
The studio puts on seven or eight recitals a year and the Dads dance in all of them. They also compete three or four times a year. Outside of the recitals and competitions, the Dads are also invited to dance at events, such as held at the Mall of America and the local high school when they are holding fundraisers.
Watch them perform their dance routine from a recent recital here.
This is a unique group of Dads. Geoff just gave one Dad his twenty year award!! His kids were long gone but he has stayed on to have fun. Some of the Dads are even Granddads! For some, this was their first year of dancing.
What a great way to participate in the local community through dance – we applaud Geoff and his Dancing Dads Group.