Well we are finally catching our breath after exhibiting at the DanceLife Teacher Conference, by Rhee Gold this August. The conference is every two years and held at the stunning Phoenician Resort in Scottsdale, AZ. It is an amazing venue and we just love being there!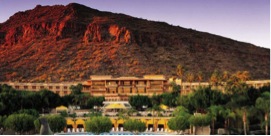 We met so many wonderful attendees – Dance teachers, dance studio owners, dancers, faculty. We also reunited with some of our fellow exhibitors from previous dance trade shows – always fabulous to see them. We made NEW friends too from the Australian Teachers of Dancing – who were exhibiting from Australia to help promote their philosophy of providing an exciting, vibrant, professional and educational environment for dance studios. Check  ATOD's website.
Speaking of Faculty – funny story – I had to do a double-take when faculty member Derrick Schrader – walked by our booth. He had his cap on and looked the double of Zachary Quinto (Spock in Star Trek, Heroes) – couldn't believe it. The next day I bumped into him in the Café and Ice Cream Parlor (massive shout out to the wonderful team there) and asked "Have you ever been stopped and asked if you are Zachary Quinto?", to which he replied "Every day!!". I watched part of the class he was teaching too – very dynamic and fun!
Thank you to EVERYONE who came by our booth to check out our barres, glassless mirrors and flooring for dance studios – we so enjoyed meeting you all. It was great to hear from current and past customers too, especially when they tell us "we love your barres in our dance studios and have had them for ten plus years!!!".
We will definitely be back for the next DanceLife Teacher Conference!