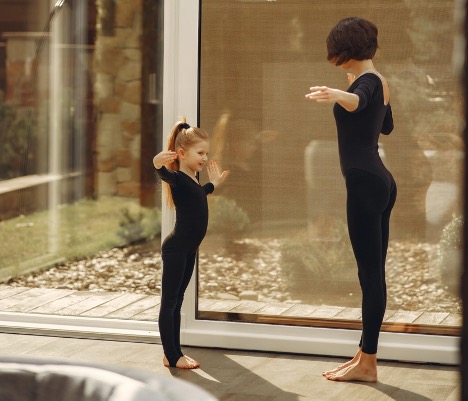 We welcome guest blogger this week, Charlene Roth. She has written this great blog about Dance at Home and Tips for Parents and we're so pleased to feature her article.
The coronavirus pandemic has been keeping your family at home, but it doesn't have to pause your child's dance practice. Whether your child is a budding ballerina or a dedicated dancer, there's a lot that parents can do to support their child's dance at home. Use this resource guide for tips and ideas on how to keep your child dancing through the pandemic.
How to Create a Space for Dance – at Home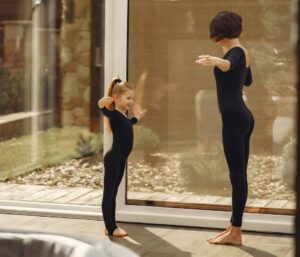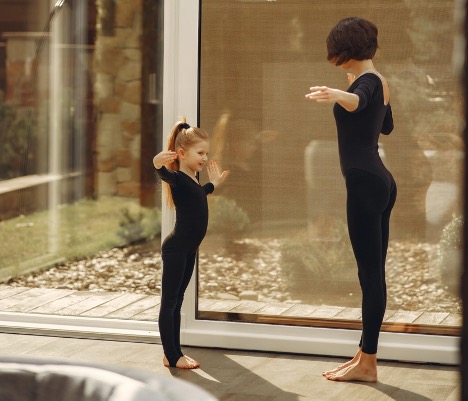 Before your child can dance at home, they need a space for it. Here's how parents can create a simple dance studio at home.
Consider where you put your dance studio. Placing a dance studio on the lowest floor of the house avoids noise coming from above.
After placement, soundproofing is the most important element of a child's dance studio. Textured wall panels are one of the easiest soundproofing solutions.
Flooring comes next. Portable dance floors are a great solution for a multi-purpose space.
Pick up quality equipment like dance barres, glassless mirrors, and portable flooring from EnPointe.
Keep in mind as you make these changes, your new multi-purpose space could pay off when the time comes to sell, since these sorts of rooms can boost value.
Online Dance Classes for Dance at Home
Find ways to keep children active in instructor-led classes even during the pandemic. Unlike online videos and independent practice, an instructor can provide constructive feedback to help your child's skills progress. Luckily, whether your child is active in ballroom dance, ballet, or tap, it's possible to find instructor-led classes online.
Dance Magazine lists a variety of paid and free options for online dance classes.
A number of ballet stars and schools are also leading online classes during the pandemic, including lessons for children.
Parents can reach out to local dance instructors about private virtual lessons on Zoom.
Self-Guided Dance Activities for Kids
In addition to instructor-led lessons, equip kids with resources like these for self-guided practice.
YouTube is a great resource for young dancers. Check out these dance influencers for fun and inspirational dance videos.
Need more resources? Here are more choreography channels to keep your bodies moving through the pandemic.
Cross-training activities like Pilates, yoga, and strength training are another way to keep things interesting for kids. Plus, they prevent injury!
COVID-19 Precautions for Parents
Staying home is the first step in keeping your family healthy through the pandemic, but even at home, it's important to make sure you're practicing good health and hygiene. Remember, we carry all Stagestep's professional cleaning and disinfecting products.
Parents should take steps to keep their child's new space coronavirus-free, like cleaning high-touch areas and washing soft surfaces and linens at least weekly.
If kids are using electronic devices to access dance videos, make sure they're being sanitized regularly.
Monitor for signs of illness. If your child seems unusually tired or develops a cough or fever, talk to your doctor about testing for COVID-19.
It won't be long before your child is dancing in classes once again. But in the meantime, make sure their dance skills stay strong with a space to practice and dance at home. A dedicated space not only keeps your child dancing through the pandemic, but it's a great way to turn a neglected corner of your home into a fun, flexible space that you can use for a dance studio, a den, a home gym, or anything else you need! That means more space to enjoy life at home right now, and it could even mean more money in your pocket when you sell your home.