It's that time of year again. It gets a little too cold to enjoy the commute to dance class, you get that clammy feel when the crisp air hits your heated body on the way out, the Radio City Rockettes start kicking into their 85th year and the buses around New York can be spotted plastered with their smiles. The New York City ballet breaks out the Nutcracker once again and, if you're lucky, you can catch it on tv – perhaps on Christmas Eve which is when I always seem to catch it.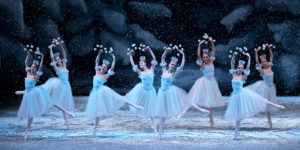 And thus you end up home for the holidays. Which means a break from class, a break from routine, and tons of yummy food! Sounds great, unless you're a hardcore dancer, right? What torchure. Don't fret. That's where En-Pointe comes in! Sure, every dancer has practiced their tondus in the kitchen, the island as their barre. But wouldn't it be nice to have a really ballet barre to practice on at home over the break? Or perhaps ask for one for Christmas? En-Pointe offers Portabarres and Portafloors perfect for this upcoming season… a MUST in a dancer's home who's "on break!"
This way you can dance along with the sugar plum fairies in your own living room…
– Happy Holidays from J!