Wondering what to buy the dancer in your family? We have the perfect present – EnPointe's PortaBarre with carrying case. A portable ballet barre is a must for any dancer on the go!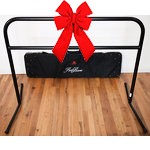 A great present for a daughter, son, or even for yourself! If they would love to practice more at home in their dance studio or any space your dancer uses then the PortaBarre is the perfect solution.  They would also be able to take the portable ballet barre to a friend's house!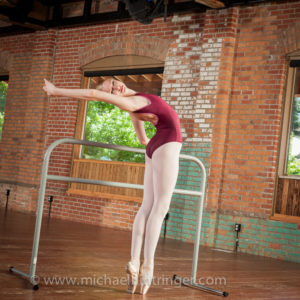 Wish they had a barre at Dance Recitals or competitions? Then our portable ballet barre with carrying case can easily be taken to these events.
What is the PortaBarre you ask? It truly is a portable ballet barre that is available in either 4.5', 9', or 13' lengths. The 4.5' and 9' both come with one custom-made, padded carrying case and the 13' has two. The PortaBarre is lightweight but strong and stable and puts together in seconds with our spring-lock system.
EnPointe's portable ballet barre with carrying case is lightweight. The 4.5' barre only weighs 15lbs and the 9' with carrying case is only 25lbs.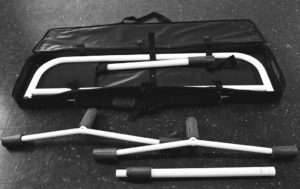 It doesn't take up much room when not in use as the PortaBarre feet can swivel flat to be stored against a wall or in a closet, or popped back into the carrying case and placed under a bed. Very handy for moving through doorways or tight spaces. What a great space-saving feature for a portable ballet barre!
And…. we offer color options– Black, Gray or White aluminum. And the 4.5' comes in Pink! Yes Pink!

Don't delay – contact us today to place your order in time for a PortaBarre to be delivered for Christmas!